New Student Information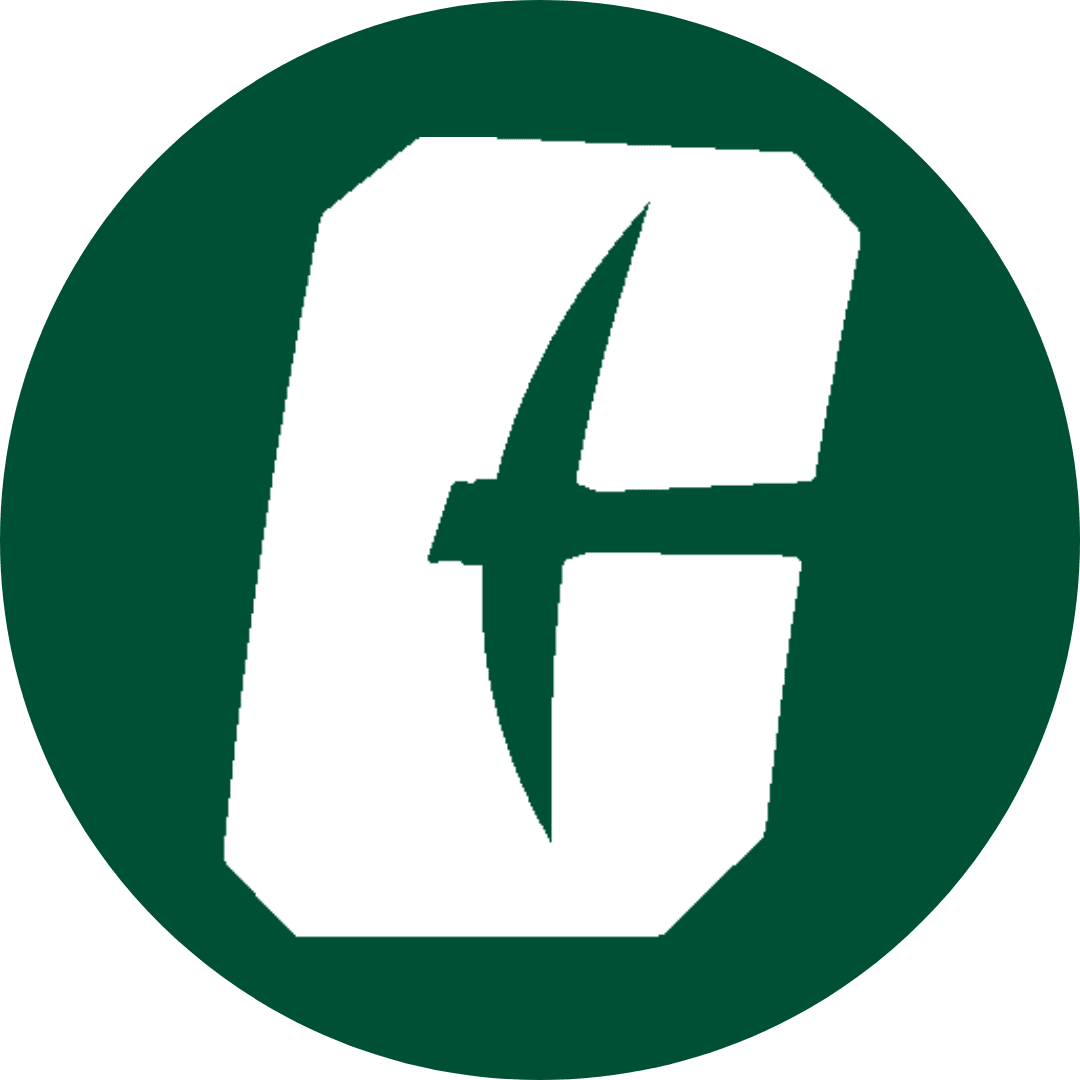 Are you ready to get started, new NINER?
Welcome and Congratulations, NINER!
Once you have completed your New Student Orientation modules in Canvas, follow the steps in the appropriate section below to prepare for your first day of classes. These steps will guide you through the course registration process and set you up for SUCCESS!
FIRST TIME IN COLLEGE (FTIC) STUDENTS
TRANSFER STUDENTS
It is important for you to understand how your credits transfer to UNC Charlotte. The Transfer Credit Advisor is an online database of courses that have transferred from other colleges and universities across the country. If you are transferring from a NC community college, the list of courses is comprehensive. If you are transferring from a college or university outside of NC, this may not be quite as comprehensive, but new courses are being continuously added.
Before you register for classes, ensure that you have requested all transcripts be sent from your previous institutions.
You can check Banner Self-Service to see if Admissions has processed your transfer credits by checking your UNC Charlotte transcript. Login to my.charlotte.edu then follow this path: Click on Banner Self-Service icon –> Student Services/Student Accounts –> Student Records –> Advising Transcript.
If your transfer credits do not appear on your UNC Charlotte transcript, you may email Admissions (admissions@uncc.edu) to see if they have received your transcripts. Include your UNC Charlotte Student ID (it starts with 801) as well as your full name in your email. If they have received your transcripts, they will process/post them as soon as possible. Be advised that Admissions processes AP/Transfer/HS/etc. transcripts for the entire campus (thousands of new and returning students) in the order they are received. They will be able to tell you if they have received your transcripts or not but NOT when they will actually get to yours specifically.
The new general education requirements starting Fall 2023 will require students to complete ten (10) courses (31-32 credit hours total). These courses are listed below;
Requirements
First-Year Writing (WRDS 1103 or 1104)
Second-Year Critical Thinking and Communication (CTCM 2530, formerly LBST 2301)
Quantitative and Data (MATH or STAT)
Quantitative and Data (various)
Natural Science with Lab
Natural Science with Lab Optional
Four (4) Theme Courses

Two (2) Global (XXXX1501 and XXXX 1502)
Two (2) Local (XXXX 1511 and XXXX 1512)
Disclaimer: **Please do not be alarmed about how to complete your general education requirements as they are already incorporated into each Lee College of Engineering academic plan of study.**
Tips for Registering for General Education Courses:
When registering for courses, it is important that you look at and follow your major Academic Plan of Study.

If you cannot register for your WRDS required course, you

CAN

register for one of the themed (Global or Local) courses.

Look closely at your Academic Plan of Study to see if there is an associated lab required for a science elective.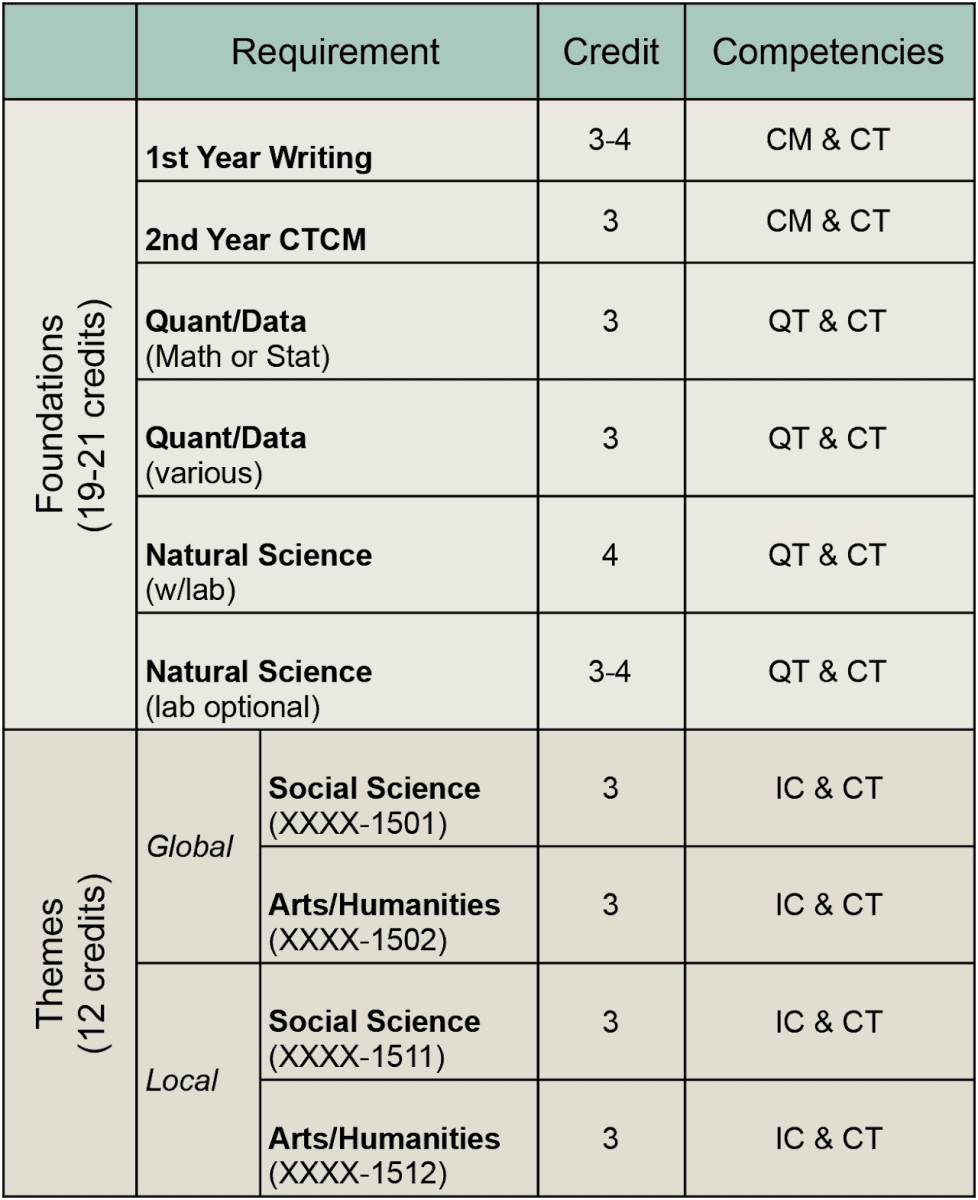 The Academic Plan of Study lists all degree requirements for your academic program. The Academic Plan of Study is your roadmap that provides a recommended semester-by-semester schedule of courses you need to take for your major. It is also a tool to keep track of your academic progress.
Engineering Major Plans of Study:
Engineering Technology & Construction Management:
Each academic plan of study is split into 3 main columns (example image below):
Course column – gives you a list of the courses you should register for.
Pre/Corequisite column – shows you the pre-requisite course(s) you must have (or be taking at the same time if "Co-req" is listed) before you can take the course listed in the "course column."
Credit hours (Cr. Hrs) column – the number of credit hours for that specific course.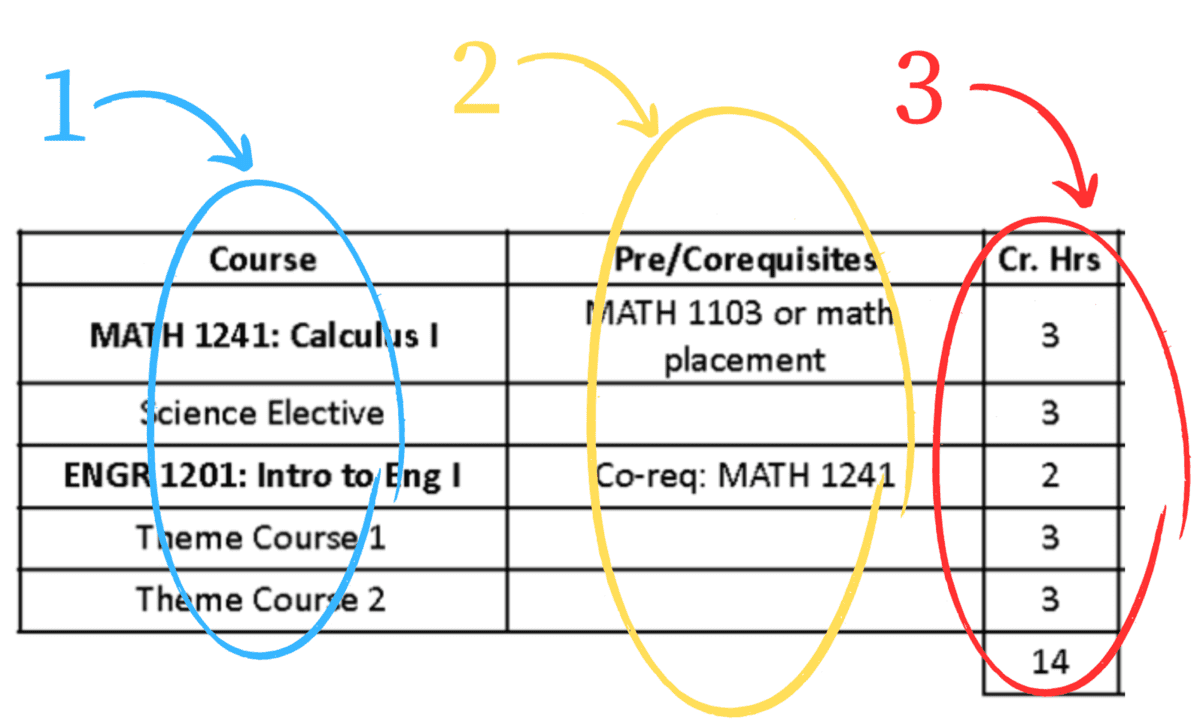 Understanding Your Major Progression
Maintain at least a 2.00 cumulative GPA.
Pass ALL courses within two (2) attempts, including withdrawing from a course with a grade of W.
An undergraduate student who fails to satisfy one or more of the progression requirements stated above, but who nonetheless meets the conditions for continued enrollment in the University, will be ineligible to re-enroll in the Lee College of Engineering until an appeal is accepted by the Lee College of Engineering. Once an appeal is accepted, requirements for continued enrollment appropriate to the individual situation are specified in a "Continuation Agreement" that is mutually agreed upon and signed by the student and their appropriate advisor.
Importance of Meeting with Your Academic Advisor
To help students achieve their educational and career goals, advisors focus on enhancing the students' transition from high school or another college/university to Charlotte by
Assisting students' understand University policies and procedures and
Referring students to appropriate campus services and resources that will best ensure student success academically and professionally
Your academic advisor will assist you in developing a plan of study based on your prior preparation and objectives. Your academic advisor will provide academic advice and counsel, but the final responsibility for ensuring program requirements are met, remains with the student. Students are encouraged to maintain contact with their academic advisor throughout their University career.
How To Schedule a Meeting With Your Advisor
Students use our online system called Connect to conveniently make appointments with their academic advisor.
Log into Connect from your my.charlotte.edu account.
Click 'Make an appointment' (blue button at the top right).
What type of appointment would you like to schedule? Select 'Academic Advising'.
Service? Select 'Academic Advising'.
Take a look at these Pro-Tips as you create your semester schedule. There are tips and tricks to registering and things to consider when making your schedule.
Banner Registration
Register for your

Mathematics course

first!

This will allow you to register for any co-requisites of your math course, which must be taken at the same time.

Register for

all other courses

listed on your major academic plan of study.

Waitlist – If a course is full, see if it has a waitlist and add your name to the waitlist. You will be notified via UNC Charlotte email if a seat becomes available. There is no guarantee that you will get a seat, but it is a great tool.

Check out the information about how to use a Waitlist.
Check your UNC Charlotte email often so you do not miss any notifications!
Schedule Wizard
Schedule Wizard is a tool you can use to make different schedules and choose from those schedules when registering for classes.

Log in to your My UNC Charlotte Portal and look for the Schedule Wizard icon under the Quick Links section to begin creating potential schedules.

Select the schedule that works best for you, and click

Send to Shopping Cart

.

REMEMBER! You need to click "Register" in Banner Self-Service to complete the registration process
*Note:
Schedule Wizard does not check for or display restrictions on courses.
If a course has a restriction (such as major or classification) you will receive an error in Banner if you do not meet the qualifications to register for the course.
---
Things to Know When Looking up Courses
Courses at UNC Charlotte are made up of a course prefix (letters) and a four (4) digit course number. The Course Summary Search page (found in your banner self service page) lists ALL courses offerred at Charlotte by subject. Here are some common course subjects you may need to register for are;
MATH – Mathematics
WRDS – Writing, Rhetoric & Digital Studies
ENGR – Engineering
ETGR – Engineering Technology
MEGR – Mechanical Engineering
CEGR – Civil Engineering
ECGR – Electrical and Computer Engineering
SEGR – Industrial and Systems Engineering
ETCE – Civil Engineering Technology
CMET – Construction Management
ETEL – Electrical Engineering Technology
MET – Mechanical Engineering Technology
If the course number contains an H (i.e. LBST 2101H), the course is for Honors Students only.

Students must be enrolled in the University Honors Program, Crown Scholars Program, Martin Scholars Program or have permission from the Honors College.
To request permission, contact: Shannon Zurell-Carey (Office Administrator) at shannonzurell@uncc.edu.
Charlotte Honors College Information
The University Academic Calendar
The Academic Calendar is an important tool in a student's toolbelt! It is the university schedule for all important dates and deadlines:
First & Last day of classes.
Exam week dates.
Drop/Add deadline at the start of the semester.
Last day to change or Opt-Out of Grade Replacement
University holidays and closed dates.
---
Gmail & Google Calendar Pro-Tips
Gmail:
Your university email address is the communication link for all official communication from the university, advisors, faculty, and Canvas!
Create labels to house different categories of emails
Create 'rules' to automatically file incoming emails, decluttering your inbox for better management.
Google Calendar:
Google Calendar is a powerful tool to manage your time as a student!
How to set up your Canvas App best for YOU!
To Download the Canvas app search your App Store for Canvas.
When the app launches, click on the "Find my school" button.
Type: University of North Carolina at Charlotte
This will take you to Web Authentification @ Charlotte
Enter your Niner Net username and password
Authorize and once authenticated your registers courses should be listed.
The W.S. Lee College of Engineering requires all students to own a laptop computer.
Beyond college and university baseline requirements for new students who enrolled in Fall 2023 or beyond, the W.S. Lee College of Engineering requires all student laptops to meet specific minimum requirements and be Windows based. This is due to the engineering software packages our students often have to use, many of which are graphics intensive. For students who enrolled prior to Fall 2020, visit the Mosaic website to learn about laptop requirements.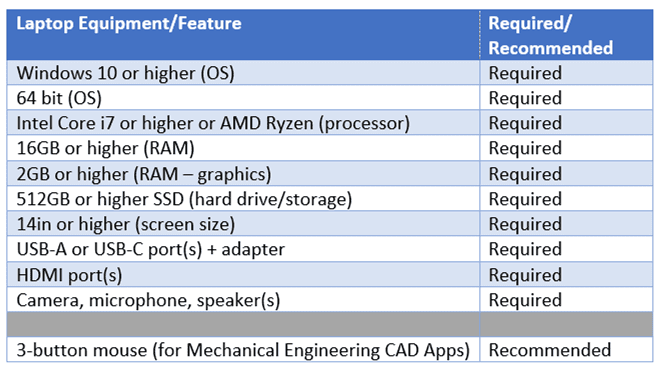 The W.S Lee College of Engineering also requires that laptops, for all undergraduate and graduate students taking College of Engineering courses, have a microphone, camera, and speakers.
Owning and using laptops will greatly benefit engineering students who decide to pursue successful academic endeavors at the W. S. Lee College of Engineering. Numerous engineering applications are available for engineering students to install on their laptops, some at no cost and some at minimal cost, and engineering students can access hundreds of engineering apps Using Mosaic's Mosaic Anywhere from any computer with an internet connection.
Visit the Mosaic website and learn more about our Mosaic Computing Resources for Students.
Please note:
Chromebooks, iPads, tablets, and mobile devices do not meet the Lee College of Engineering laptop requirement. IMPORTANT NOTE: MacBooks ARE NOT recommended for students in the Lee College of Engineering as it does not meet the processing power and dedicated graphics video card (2GB) requirements.